Clifton - Clevedon Charity Cycle Ride
Written by BID Clifton Village on
.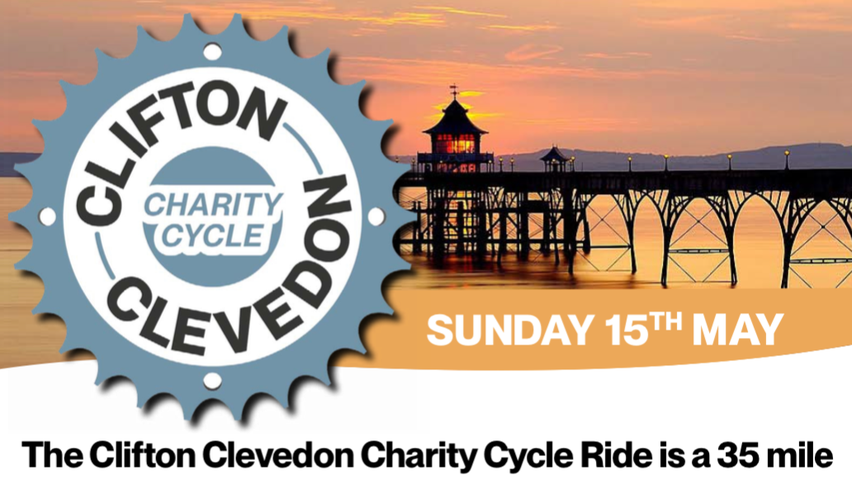 CLIFTON CLEVEDON CHARITY CYCLE
The Clifton Clevedon Charity Cycle Ride is a 35 mile (or 20 miles with train options).
It's a recreational ride aimed at friends and families seeking a great day out combining iconic bridges, piers, architecture, coast and countryside. It's a lovely route suitable for all sorts of riders and may be started and/or finished in Clifton or Clevedon.
It's a great local day out by bike, everyone's welcome to give it a try, and it absolutely does NOT matter what anyone's wearing clothes-wise or what type of bike they're riding - FUN & LEISURE is the key to this event!
So join us and discover what these two great West Country locations have to offer!
Details
DATE: Sunday 15th May
START TIME: 9.30 AM
START / FINISH LOCATIONS:
Clifton - Mall Gardens, BS8 4BH
Clevedon - Queens Square, BS21 6HX
MIDDLE - Mostly National Cycle Route 33
FINISH TIME:4.00PM
Route: The ride itself takes place on quiet country roads and some off-road shared cycle paths, with a clearly-marked route and full mechanical and medical support throughout.
Distance: For the majority, no transport will be needed as it is an 'out & back' ride however for those wishing for a shorter ride public trains are nearby at Clifton Down, Bristol Temple Meads or Yatton (20 minutes ride from Clevedon). The whole route 'there and back is 35 miles or a 20-mile ride is possible by using the trains 1-way (riders are responsible for sorting their own arrangements if they choose to do this - we advise riders to book their bikes onto the train in advance however GWR the operator report that this may be done any time in advance of the train arriving).
Support: The Ride is fully supported with clear directional signage, as well as comprehensive en-route medical and mechanical support from experienced providers. A backup recovery service is also available if needed, and riders are looked after every step of the way! The event is registered with British Cycling, cycling's governing body, and is being run in accordance with its technical regulations (NB cycling helmets are required), and all signed-in riders benefit on the day from automatic third-party event insurance (provided by British Cycling) as part of their entry fee.
ENTRY
Entry Fee: Entry to the event costs £5 per person, and 100% of all entry fees will be donated post-event to the DEC Ukraine Humanitarian Appeal.
To enter, please visit: Clifton & Clevedon Cycle
Made possible by Clifton and Clevedon Business Communities.